This portfolio unites various food and snack products with high quality natural consistency.
We have several joint ventures holding manufacturing sites equipped with modern production lines.
Our partners have diverse choice of product labeling and packing according to their needs.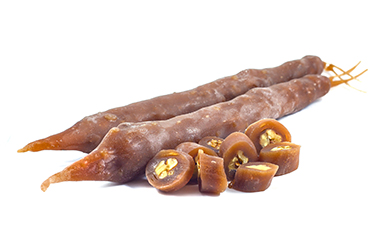 Churchkhela
Churchkhela is a typical Georgian product.
It is a string of walnut halves that have been dipped in grape juice called Tatara or Phelamushi (grape juice thickened with flour), and dried in the sun. No sugar is added to make real Churchkhela. The shape of Churchkhela looks like a candle, some people say it looks like a sausage. Georgian warriors carried Churchkhelas with them because they contain many calories. The best Churchkhela is made in Kakheti region that is famous as the motherland of wine.
Get Quotation
Natural Honey
We offer several types of Natural Honey. Georgian bee is famous by the name of Caucasian mountainous grey bee throughout the world. This is the pure Georgian sort, which began its extension at the beginning of the current century in the world.
Get Quotation
Pollen
Bee pollen contains vitamins, minerals, carbohydrates, lipids, and protein. It comes from the pollen that collects on the bodies of bees.
Get Quotation
Propolis
Propolis is a resinous mixture that honey bees collect from tree buds, sap flows, or other botanical sources. It is used as a sealant for unwanted open spaces in the hive. The composition of propolis varies from hive to hive, from district to district, and from season to season. Normally it is dark brown in color, but it can be found in green, red, black, and white hues, depending on the sources of resin found in the particular hive area.
Get Quotation
Watermelon
Georgian Watermelon is famous of its rich aroma in comparison with other countries' watermelons. Our clients in Europe and Arabic countries are very pleased with its tasting features. The sizes and the skin thiknesses vary from type to type.
Get Quotation
Tea
Georgian Tea available in different sorts, types, packaging. For more information please contact us.
Get Quotation